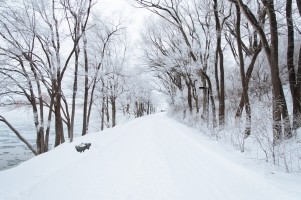 With 2018 here I know many people have resolutions to stay in shape or become more active. Even thought it has been cold and snowy there are still things you can do outside. Here in Cincinnati there have been a few snowfalls recently and there is nothing better than a nice winter walk in a snowy wonderland. There are many Great Parks around the area for you to check out and take a walk. As always though be safe if you venture out, wear your layers, stay clear of any icy lakes or ponds and always be careful if you drive.
If you are out for your walk with family you might take a little time for a fun activity. While you are out on your walk take a minute or two and see all the animals who stick around for winter. You might see Mr. Gray, the squirrel running around looking for some food. Or maybe you spot a few cardinals flying around in the bushes. Take a quick look at one of my recent blogs, The Cold Winter Months, to learn about where all the animals in "Flip, Flap, Try . . . A Cardinal's Journey" might be hiding.
If you go out to one of the Great Parks of Hamilton County stop by one of their gift shops to pick up a copy of "Flip, Flap, Try . . . A Cardinal's Journey." You can find a listing of all their parks and gift shops on their website.
Janet