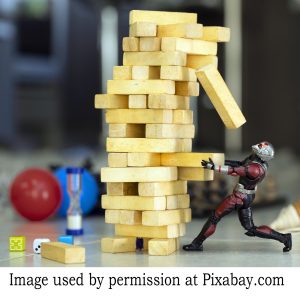 Several months ago, I was at one of my Cincinnati Civic Orchestra get-togethers. One of the musician's sons came up to me and asked if I wanted to play Jenga. I said "Alright. What's Jenga? How do you play it?" The young man set up the tower of blocks, then gave me a brief demo. "You remove one of the blocks by pushing it out of the tower with one of your fingers. Then you place it on top. Now it's your turn." I sort of remembered playing it before. "OK." We proceeded building the tower higher and higher. I tried developing my strategy by observing my opponent. Alas, he won the first game when, on my turn, the tower came tumbling down rather surprisingly. CRASH! We giggled. We played a second game and possibly a third. By that time, he tried giving me a handicap. He would remove two pieces on his turn while I only had to remove only one. At the time, I wasn't sure if that was an advantage for me or for him. Irregardless, he beat me every game. I decided he was out of my league.
Leslie Scott created Jenga. It was based on a game that evolved within her family in the early 1970's. They lived near and purchased children's wooden building blocks from a sawmill in Takoradi, Ghana. The name of the game comes from the Swahili word "kujenga" which means "to build". As of 2017, 80 million games were sold world wide.
Playing this 54 block game takes physical skill, patience, concentration and perseverance. Also , a child can learn how to deal with surprise and change. I think it is kind of fun to hear and see the blocks come crashing down when the unsteady balance causes it to fall. It makes the losing experience not as difficult to accept. As with any game, one must learn how to be a gracious winner or loser.
I am glad my fellow orchestra member's son asked me to play Jenga. We not only got to build a wooden tower, we got the opportunity to start building a friendship. For that I am grateful. Now it's my (your) turn to ask someone to play a game.