"Some Ideas About Writing I've Been Tossing Around In My Mind" — from a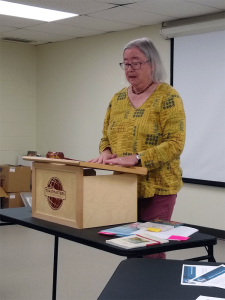 speech I gave at an essay themed open house for Wilmington Expressives toastmaster club.
"Squeaky dove into the crystal-clear waters of the Antarctic Ocean. He darted this way and that through the water with his tiny flippers. Zoom! Zoom!" (From my latest children's book, "A Penguin Family . . . Finding Joy")
The very first line or opening of a book can be designed to capture a reader's attention, by throwing them into the middle of some dramatic action or by generating curiosity about an intriguing character, unusual situation, or important question.
One can be creative in how they write the first paragraph of an essay. I like the way my niece, Michelle, a recent graduate of the University of Cincinnati, started an essay she wrote on "Space and Place in Architecture and Archaeology" in this fashion . . .
"I happened to pull out a very specific deck of playing cards that was sitting on my desk. This deck is unlike a usual deck of black and white or red and white cards with only the value and suit on display. This particular deck is called a "Cincy Deck." What is unique about this deck is each card is a place (or event, or icon) in Cincinnati, Ohio."
The perfect hook helps ensure a reader will be fully immersed in the argument of a persuasive essay or the fantasy world of a children's book or novel.
Descriptive words describing motion, I.e. dizzy bees and bow-tied fruit flies, which Sandra Cisneros uses in her book entitled "The House on Mango Street" can intrigue a reader. Each of the chapters of her book may be considered short essays, Michelle told me. She thinks Jamaica Kincaid's "A Small Place" can be considered an essay. It is an eighty-one paged small book where the author explains the history, culture and politics of Antigua, a ten-by-twelve-mile island in the British West Indies where she grew up.
Sometimes ideas will come to you in a flash of inspiration, I.e. you may see something in the room you are sitting in, or recall something you experienced on a camping trip or other type of vacation. Other times ideas will take more prompting. You can get ideas from reading books. Thomas Edison read everything he could get his hands on.
When my husband finished reading Edmund Morris's 634 page book entitled "Edison" I asked him how he would describe Thomas Edison. He answered, "He was driven." There will be setbacks in writing a book (and even after you think you are done). You have to be driven, motivated to finish it.
Illustrations make children book stories come alive. This is very true looking at the illustrations Laura Yoder drew for both of my children books. You may also include pictures in an essay to help show what you mean. I saw an illustration in one of the essays Michelle gave to me to read. It was very helpful.
For an informative essay or book, you may want to start with a personal story. It can make the readers feel more connected to an other-wise fact heavy piece of writing. Witold Rybczynski, a professor of architect at the University of Pennsylvania, told a personal story throughout his book "The Most Beautiful House In The World" about the designing and building of his home.
When I asked Michelle what tip would she tell someone about writing an essay, she said, "Pick one topic. Stay with it throughout the essay. Have flow."
Essays and books you author are keepsakes, snapshots of what you have learned and who you are. Be proud of them.
Don't procrastinate. The sooner the better. Soon makes room. Also, leave a couple of days to set your book or essay aside. Let things toss around in your mind. Take breaks. Make time for relaxation and play.
From my niece's essay: "There are many points architects are taught throughout their schooling and one of the best summaries of these points is the book, "101 Things I Learned in Architect School, by Architect, Urban Designer and Adjunct Professor Matthew Frederick."
Last lines of a book tend to be remembered (if you are one of the classic authors). In the concluding paragraph of an essay, one restates the thesis.
Michelle's essay conclusion:
". . . There are 101 points. The nine discussed here relate to a spatial discussion of the importance of looking deeper and comprehending what places can tell the observer in terms of culture, social position, economics, environmental factors, and others. Architects and archaeologists look at the same set of factors to reach their conclusions about: What is space? What is place?"
I will conclude with the last lines of my book ("A Penguin Family . . . Finding a Joy"):
"The penguin family found even the smallest squeak can bring joy. And this cannot be denied."