I made it to Puerto Rico to be with my husband for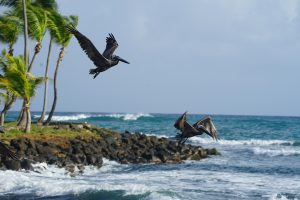 Thanksgiving since he is working there. Sun is shining, cotton ball shaped clouds highlight a royal blue sky. A row of palm trees are near the beach with fingering branches, some green, some brown, with golden yellow spines. Coconuts can be spied. We can hear the roar of the massive grayish blue ocean dabbled with white foamy cresting waves. Vavoom! Wisshh! Powerful tumbling, turning into white sprays. Cloudy white waters retreating back away from the shore. Three brown pelicans. wings with trims of black, and long pointy noses leading their way, mockingly flew by reminding us this is their home, not ours. Variant repetitious waves calling out "I'm here!" Crash! Swish! Crescendos. Crashing over rocks. Bellowing their arrival. Diminuendos of retreating waves saying, "Till we meet again." Overall, a constant relentless roar. An occasional squeak from a bird. Waves washing against, over, and through some of the rocks of the shore. The sounds of the ocean filling our ears, our minds. The clouds near the horizon were graced by a fading in and out rainbow earlier this morning. We tried taking some pictures. Relaxing, engulfing, inspiring sights and sounds. Ours for the taking if we so choose.
Though we have been through many challenges this year, probably most of us have amazing things for which to be thankful this 2020 Thanksgiving Day. Feel free to share what you are thankful for with me. If I'm lucky, I will be able to give the world a new gift this year — my second book entitled, "A Penguin Family . . . Finding Joy".