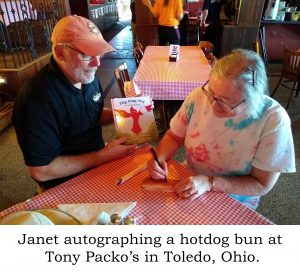 The 3rd anniversary of the launch of my first book, "Flip Flap Try", is July 7, 2020. To date, I have sold 372 copies. More importantly, I have made connections with many people and shared the messages in this book, especially about the importance of keep trying till you find your dream job. This past year saw the launch the soft cover edition of my book. It's acceptance has been positive. The most fun thing I got to do was to autograph a hotdog bun at Tony Packo's in Toledo, Ohio. I have been making final edits for my second book. Sticking with the bird theme (first book is about a cardinal), my second book is about one of our bird friends from the Antarctic, a penguin. I have gotten to visit several zoos across the United Sates and seen penguins there. I have talked with some people who have had the opportunity to visit the Antarctic.
Being an author and having my own business, Morrow Circle Publishing, has continued to be a learning and rewarding experience. Most importantly I have learned focusing one's time and energy on being creative can be valuable, if not economically, at least for my personal growth and hopefully the benefit of my readers and audience at large.
Dealing with the pandemic has had some negative effects. I have not been able to have books signings recently. One new event I have incorporated is my First Friday Book Reading using FB Live. I have also increased the number of blogs I have written. My Instagram followers has risen to over a hundred thanks to Peter Wietmarschen, who helps with my social media.
Thanks for your loyalty. Keep safe and working towards being the best you that you can be.
Sing, play, and be happy!
Me and Rainier