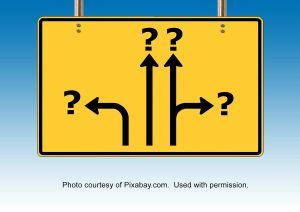 I had to get to the airport early today. Being summer, it was good driving weather, except for being dark since I had to leave the house before sunrise. However, I made the mistake of thinking I was following the On Star directions when the voice said "turn left". Unfortunately the left turn wasn't exactly when I heard the voice say it. It was a few seconds later. There had been a slight left curve in the road and I thought to myself, this left turn was easy. A split second later, I had to suddenly brake and quickly turn the steering wheel a sharp left, as there were road sign arrows pointing left in my face! Did I mention it was dark, and it was the middle of the night. I was a little tired and probably not at my top thinking ability. Fortunately I was able to stay on the road and didn't hit anyone. So much for trusting modern technology. Hopefully, I won't make that mistake again.
It seems there is a learning curve for just about everything we do. Like it takes longer and more energy to follow a recipe for cooking/baking the first time. Sometimes the recipe even warns you to read all the directions first. Yes, I am the type of person who reads an appliance manual completely before operating it the first time. I realize most people just jump right in, then go back to the instructions if they run into a problem. When it comes to machines, it is best to know how to turn something off before you start it. My dad taught me this.
Navigating through life can be challenging. We have lots of decisions to make and pretty much a finite time to make them. Also, tasks usually take longer and more energy than we anticipate. When I take time to just sit and relax for a moment, I usually remember something else I need to do. Some of the things I remember when I do so turn out to be high priority things such as family matters, or somewhat immediate matters such as remembering there are clothes in the washer which need to be switched to the dryer. So, do the best you can, that's all any of us can do. The most important thing is to take breaks to have more time to reflect and come up with wiser decisions and plans. That way, you can more easily navigate the curves life throws you.